Service Wire Co. Donates $1 Million to Support New Marshall School of Business | New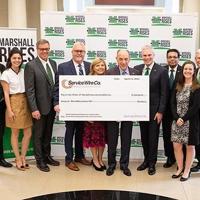 HUNTINGTON — Service Wire Co. has committed $1 million to support Marshall University's Brad D. Smith Center for Business and Innovation, the Marshall University Foundation announced.
Service Wire will provide financial resources as well as wire and cable products for the new Lewis College of Business and Brad D. Smith Schools of Business facility. Additionally, the Transformative Sales and Service Excellence Center within the college will be renamed Service Wire Company Transformative Sales and Service Excellence Center.
"Service Wire has a long history of partnership with Marshall University, and we are excited to continue that legacy," said Louis Weisberg, Service Wire's president and CEO, in a press release. "We are proud to have Marshall University graduates in all departments across multiple locations – from accounting, sales and marketing to engineering, operations and general management.
Ron Area, CEO of the Marshall University Foundation, echoed the importance of the relationship between regional businesses and Marshall.
"There is currently a lot of excitement around the new School of Business and its impact on Marshall University and its surroundings," Area said, "and that dream can only be realized through relationships and great partners like Service Wire Company. Louis Weisberg, Chuck Oldaker and their team have been long-time partners with the university, and we look forward to continuing this relationship in the future. This gift will help Marshall achieve his goals of transforming Huntington into a central hub for business innovation.
Service Wire Co. is a multi-generational, family-owned wire and cable manufacturer that has been in business since 1968. With locations across the country, including West Virginia, Texas and Arizona, the company provides American products and services. Through a national network of distributors and advanced distribution capabilities, Service Wire Co. serves industrial, commercial, utility, pumping, irrigation and transportation customers in North America and around the world.
The building, which will also serve as a center for economic development in the region, will provide conference facilities capable of hosting both small and large business meetings. Additionally, the building will serve as a hub for student-centric activities, providing students with facilities that encourage interaction and collaboration.
The gift will also advance Service Wire Company's transformative sales and service center of excellence within the college. The center aims to prepare the next generation of sales and service leaders through relevant curriculum, role-playing exercises, real-world challenges, training and certification programs, and networking with business partners. .