PHRC Honors LG Boss with Leadership Award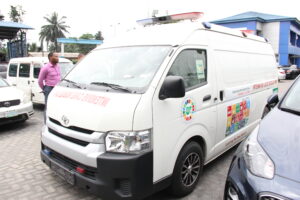 Chief Medical Director (CMD) of Rivers State University Teaching Hospital (RSUTH), Dr. Friday Aaron says the new mobile intensive care unit ambulance donated to the hospital is unique.
Speaking to The Tide shortly after taking possession of the ambulance at the hospital, Dr Aaron said it was unique in that it was of a higher standard, compared to other ambulances of the hospital.
Noting that the availability of the unique ambulance is in line with RSUTH's current status as a teaching hospital, he said: "This intensive care unit is very unique, it's not like the ordinary ambulance, this is the highest level of ambulance".
According to the CMD, there are three categories of recognized ambulances: basic life-sustaining ambulance; Advanced resuscitation ambulance; and the mobile intensive care unit ambulance.
"These ambulances are categorized by what you have inside the ambulance and the category of personnel who manage them
"For the mobile intensive care unit ambulance, that means you have doctors who are properly trained in emergency care and nurses who know how to use defibrillators, ventilators and who know how to read the tracing of the electrocardiogram (ECG).
"They are there to run these machines alongside nurses trained in emergency care," he said.
The CMD explained that among the medical personnel not yet popular in Nigeria are Emergency Medical Technicians (EMTs) or paramedics.
"But, here in Rivers State, we have a school that trains them. It is the Rivers State College of Health Sciences and Management Technology.
"This ambulance is beyond life support. As a mobile intensive care unit, it has ECG, ventilator and defubilization capability.
"This ambulance is good for very expensive emergencies such as heart attacks, heart failures and very unstable patients who will require intervention requiring monitoring throughout hospital care," he said.
Dr Aaron thanked the Rivers State Government under the leadership of Nyesom Wike for the donation of the intensive care unit, which he said befits the upgraded status of RSUTH.
The ambulance, which was presented to the CMD by the Permanent Secretary of the Ministry of Budget and Economic Planning, Mrs. Titilola Cline, was donated to the State Government by the Assistant Sustainable Development Goals (SDGs) President's main special on the SDGs. .
"The SDG has 17 goals, and the 3rd goal is health for all, ensuring that no one is left behind. So, they donated the Mobile Intensive Care Unit to Rivers State, and His Excellency has graciously approved that it be given to us (RSUTH).
"We're so grateful because he's continued to support us, and we're making sure to not only use it properly, but also maintain it," he said.
Upon delivery of the Mobile Intensive Care Unit to the CMD, Ms. Cline expressed her gratitude to him for providing quality health care to the citizens of Rivers.
She said the Ambulance will "go a long way in improving the delivery of health care in the hospital and in the state."
By: Sogbeba Dokubo