Mike LUNSFORD: 'A gift to the metal gods' | Valley life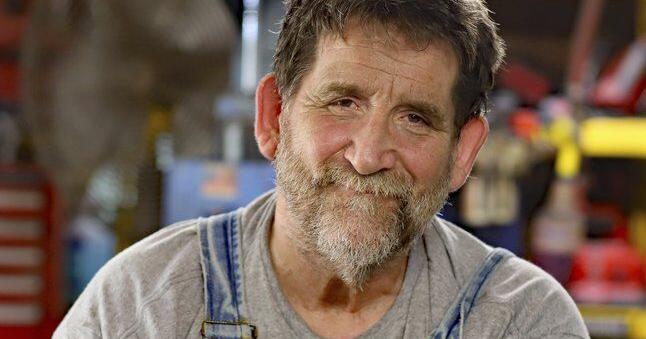 John Bennett's workplace is a few miles north of Rosedale, just off a rough West Jessup road, marked by a blue anvil-shaped sign that reads: 'Blacksmith Artist'. As I approached her winding, tree-lined driveway on a hot July day, I jolted a trio of crows from a nearby acacia and later wondered if they were there. only to enjoy his music.
Bennett, 63, lives simply, works hard and sees things in a way most others don't, at least not anymore. "I have a two-room cabin and an inside bathroom, and living here and doing what I do will be good enough until they put me in a box," he told me. shortly after visiting his open and sun-heated store, located in a converted garage near his small hillside home.
Even though Bennett was expecting me that afternoon, he was already so absorbed in his work – and his stereo was screaming Lynard Skynyrd so loudly – that I had to bang my fingers on his workbench to distract his attention from the intricate welds. it was. do on copper sheets for a fountain he was only a few days away from finishing.
Dressed in bib overalls and with a pair of reading glasses perched on his head, Bennett ushered me past a litany of hammers, chisels and punches, a 150-pound anvil (his pride and joy) , shelves of handmade patterns and specialized home-made tools, its a smoking coal forge and bellows, a smaller gas-powered forge and a pair of large pneumatic forging hammers, which, after demonstration, I made me wonder how he still had hearing. Carefully and efficiently, Bennett maintains piles of raw materials – steel, copper, cast iron, bronze – and in virtually every available space in his workspace, shelves of brushes, wires, grinders, torches and other tools of the trade are at hand. reach. Talkative and ironic, he is visibly enthusiastic about his profession.
"I grew up surrounded by people who fixed things instead of scrapping them and buying new ones," Bennett told me. "If they could make it instead of buy it, then they did. I always thought everyone was like that. It wasn't until a few years ago that I realized not everyone had or wanted to have the skills to do this.
A 1977 graduate from nearby Rosedale High School, Bennett grew up in Lyford and, although classroom work was hardly appealing to him, he never closed the door on learning. "When I was a kid, there was a man named Kenny Allen who lived on the hill above our house. I spent a lot of time in his shop bugging him. He ran a little convenience store in his garage and as I got older I was helping him. I guess that started it all. My dad was a welder and my maternal grandfather was a diesel mechanic, so I grew up in a mechanical environment," he said. declared.
"Only three subjects in school really appealed to me," Bennett added. "It was my industrial arts class, art class, and an astronomy class. I was lucky to be in this last course because it was only offered for one year. It was taught by James Kerr, and it would really break your chops, but I liked this course – something about astronomy appealed to me.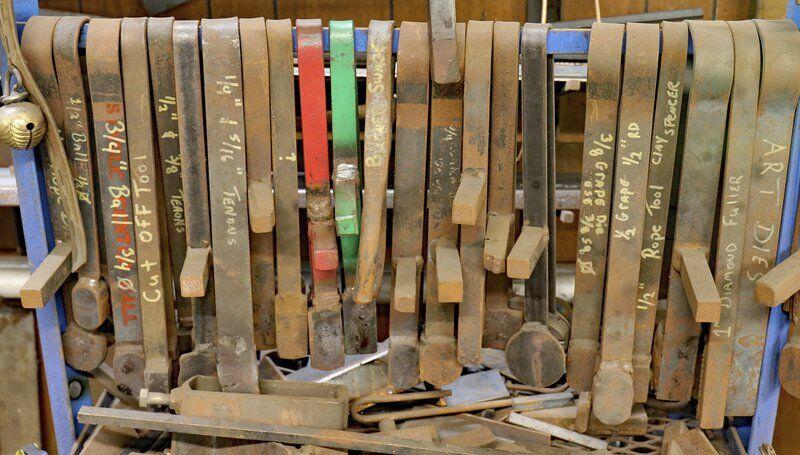 After graduating, he worked as a mechanic, finished concrete, worked with high-pressure hoses, and learned electronics, skills he used at a local factory. However, he didn't "have the stomach to let people go when I was told, so I quit". His interests in blacksmithing, and eventually the arts, came as he made a living doing these other things.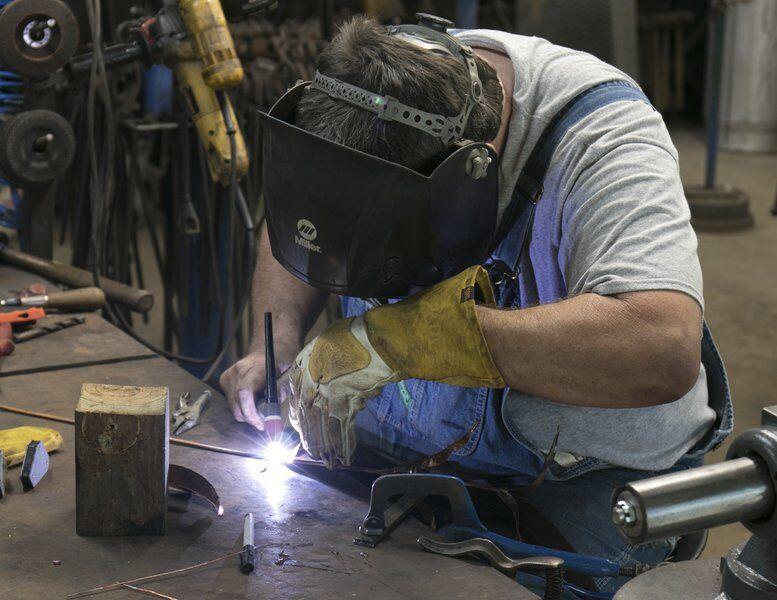 "I attended the 'Fete de la Lune du Chasseur' in Lafayette in the mid to late 90's and watched the circle of blacksmiths work for several hours, and I was like, 'I can do this. .' On the way home that day I stopped at an antique store in Covington and bought a 111 pound Peter Wright anvil I have been there ever since I like the traditional work but I finds natural art forms like trees, flowers and leaves my main interest now.
Essentially self-taught, Bennett is quick to say that his attendance at blacksmithing lectures and "hammering," and, in particular, watching others demonstrate their techniques, increased his "learning curve" dramatically. "Just spending time with a few of my peers has been very beneficial to me," he said, while adding that his growing collection of books on blacksmithing, boilermaking and woodworking includes volumes dating from the end of the 19th century.
Always determined to make a living, but even more determined to see where his artistic interests take him, Bennett has lived a lifetime: a Marine Corps veteran, three times married with a son, two grandchildren and two great-grandchildren. -children, he spends the free time he has riding his motorcycle, paddling in his kayak or sitting a few meters from his shop, his feet propped up near a ring of fire. Barely reclusive, he encourages visitors into his workspace, though aside from his workbench stool, you'll only find one chair in his shop.
"I strive to do quality work, whether it's commissioned artwork or a repair," Bennett said. "I would say a third of my work is repair, like welding and straightening, and alterations. It pays the bills. He pointed out to me, however, that he had little interest in the major repair jobs he tackled. "If it doesn't fit on that," he said, pointing to the large vise-laden work table where I found it that day, "then I don't care much anymore."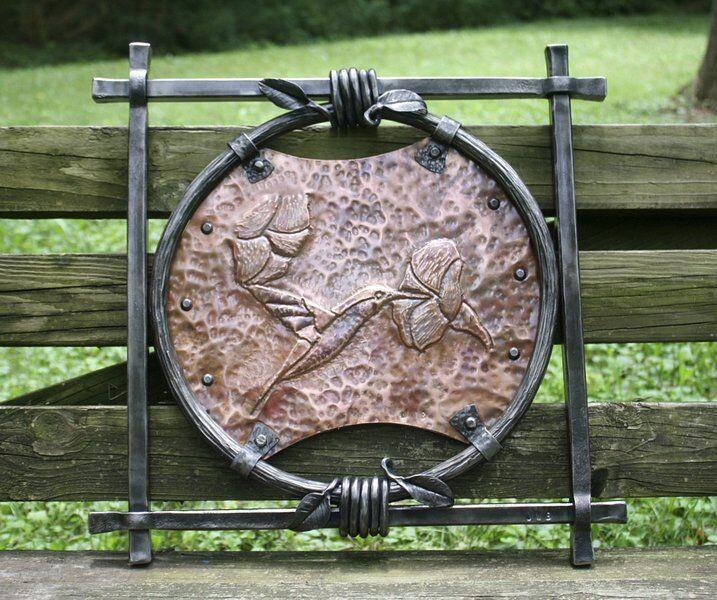 Bennett does not display his work widely. Besides places like Shoe's Ridge Bar, The Ranch restaurant, 36 Saloon and Britton Winery, where his metalwork was practiced, he sells and shows his creations at Off the Square Artisans in Rockville. "Time is the lion's share of the final cost," he says. "Solid design, quality workmanship and attention to detail take time. However, I am slowly concentrating on copper work. I really like the contrast between copper and black iron. They both have different and unique characteristics that challenge my abilities.
As he fueled his forge with coal, Bennett cut a meter's worth of steel from his stockpile and heated it to a glowing red. Pounding, then warming and pounding again, he spoke of people's expectations of blacksmiths: "There seems to be a misconception that blacksmithing takes a lot of strength and is primarily a male trade. Attention to detail and a desire to learn the basics will take a person much further than brute force. Today, many highly skilled women in blacksmithing perform a wide range of work in steel, copper, brass, and bronze. While hitting a beat, he also told me that he works with his coal forge, steel, and hammer during demonstrations because that's "what people expect to see and hear."
In 15 minutes, Bennett produced a metal bulldog that would soon be turned into a coat hook or a bottle opener, but admits, "A man can only do so many S-hooks before he wants to gouge out his eyes.
John really loves what he does, but also says that blacksmithing, and even his artistic pieces, are hard work. "I've had people say to me what I'm sure they've heard: 'It's not a job if it's something you love.' Well, come here and spend the day seeing if it doesn't work. Some artists will tell you that they don't care what other people think of what they do, but I don't think that's true. You have to learn this craft; you don't get good at it quickly," he said.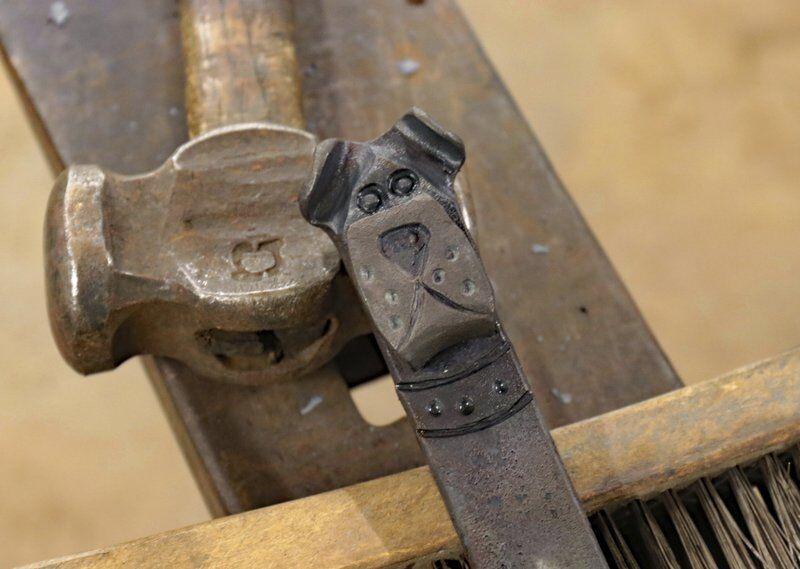 A few days after my visit, Bennett posted photos of his completed fountain on social media; he was particularly pleased with the way he handled the room's plumbing and the intricate balance of water flow. "There's something about taking a cold, lifeless piece of iron or copper and turning it into something beautiful, something with life and purpose," he said.
That afternoon, as usual for him, Bennett also posted that the fountain was his latest "gift to the metal gods of suburban Jessup."
And, I imagine the crows were back; he played Eric Clapton…
You can contact the writer at [email protected]; his website is at www.mikelunsford.com. Mike's books are available on Amazon and at a number of Wabash Valley stores. John Bennett will teach an intermediate blacksmithing class at Fowler Park in Vigo County on August 20; for more information contact him at [email protected]