25 Unique Etsy Gifts Baby Gifts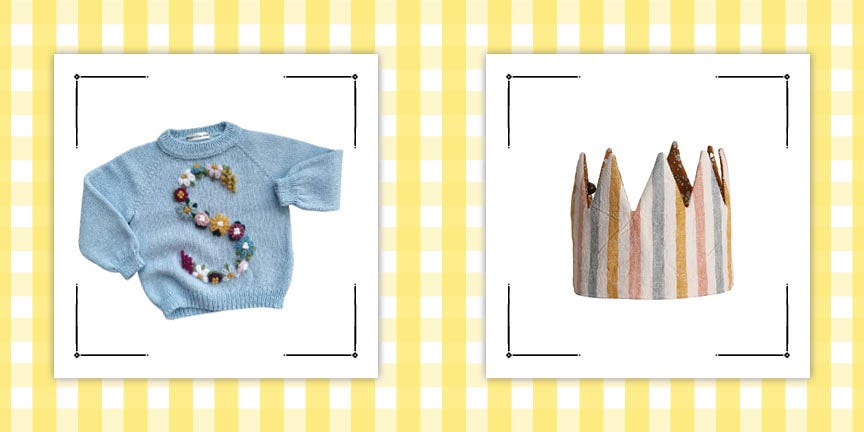 There are around a million baby toys on the market, and browsing through them can be overwhelming. It's hard to shop for someone who can't yet tell you what they like. Another challenge is that their interests change so much that it can be tedious to constantly find new toys that will hold their attention. Another thing to consider is the composition of the article. As we all know, babies put everything in their mouths, so products made with non-toxic ingredients are a big plus. That's a lot of factors to keep in mind when shopping, but that doesn't mean you should avoid buying gifts for the youngest member of the family. Etsy will save the day!
Etsy is full of aesthetic, personalized, and thoughtful gifts that parents and babies will love for years. Another added benefit of shopping on Etsy is that you can find treasures from around the world, in addition to products made in the USA. After all, it's nice to support a small business no matter where it's based. The options Etsy has to offer are virtually limitless, but read on to find a few particularly adorable ones. Baby gifts Etsy it's going to be gaga. Still looking for more gifts for the little one in your life? Check out cute Easter baby gifts for even more ideas. Also, don't forget to spoil the moms who celebrate their first Mother's Day.
1 of 25
Handmade
Baby Floral Bib Set
The ditsy fabric will distract from how messy meals can be. These handmade bibs are made from super soft Liberty of London fabric and double gauze cotton. Choose from two sizes: 0-3 months and 3 months-2 years.
2 of 25
Custom
custom dachshund
This fun toy doubles as a cute decoration for the nursery. The dog can be personalized with up to 12 letters. Of course, the longer the name, the longer the dog! Don't let the photo fool you, this is a big toy. A shorter name starts at 26 inches and a long name can exceed one meter!
3 of 25
Sheep Vest
There will never be too many baby cardigans. This shop has many fun designs.
4 of 25
celebration wreath
This reversible wreath has plaid linen on one side and a floral print on the other. It's the perfect accessory for a birthday party or a fun addition to a dressy wardrobe. A small brass bell adds an extra element of fun. Poppy and Honesty also has lovely bedding.
5 of 25
wooden pull toy for puppy
This wooden pup bounces up and down when pulled, adding another fun element to the classic pull toy.
6 of 25
Beige chunky knit baby hat with pompom
They say there is no bad weather, just bad clothes. A knitted hat is sure to keep baby warm. We love this one with its oversized pompom.
7 of 25
Montessori spinning drum
Babies will be captivated by the spinning rainbow during tummy time. Once seated, this will encourage them to use both hands.
8 of 25
Embroidered tracksuit
All basics are made softer with a bit of floral embroidery, and tracksuits are no exception.
9 of 25
Ruffled playmat
Even babies who hate tummy time can give it a shot on this cozy play mat. The shop is filled with many other models and colors. Discover the seashell!
ten of 25
Personalized Baby Spoons
These personalized spoons make an especially great gift for a baby attending daycare. Say goodbye to peeling labels!
11 of 25
Custom knit sweater
Knitted with soft merino wool and decorated with floral embroidery, this jumper will be a staple in your child's wardrobe.
12 of 25
game scarves
Step up your game of hide and seek with rainbow silk scarves. These vegan bristles will be used for years.
13 of 25
Cupcake Baby Rattle
The softest rattle ever. Babies and parents will be delighted by the cupcake design.
14 of 25
Wooden play kitchen
Ah, the play kitchen, a necessary staple in any playroom. This design is handcrafted with birch plywood and is available in over 10 colors to match any home. The store offers free shipping to the United States in 8 to 15 business days.
15 of 25
cloth doll
This cloth doll is a perfect gift on its own, but there's also a matching child's dress you can buy to take it to the next level.
16 of 25
Sensory bags
Babies love anything crinkly, crunchy or cozy. Delight their senses with this set of sensory bags.
17 of 25
Felt apple pie
Babies and young children are delighted with the play food. A felt apple pie is just what the doctor ordered.
18 of 25
Hand embroidered baby sweater
Send in a favorite jersey and have it personalized with their name. It's the perfect outfit for family photos.
19 of 25
Fabric swing
Who says swinging should only take place indoors? Sweet Swinging Shop has tons of swings in a variety of designs that will nicely complement your living room decor. They also have outdoor fabrics if you need them for the porch.
20 of 25
Wooden name puzzle with pegs
Nothing is more thoughtful than a bespoke gift. This classic name puzzle comes in five color options and can be personalized with a special engraved message.
21 of 25
Soft and sweet bunny
Floral ears, organic cotton and a monogrammed ear make this bunny the perfect gift for a new baby.
22 of 25
Custom Painted Wooden Rainbow
This stackable rainbow is an intriguing toy and a great room decoration. Choose the colors and a name for the engraving.
23 of 25
Crochet bunny rattle
This rattle is covered with a soft crochet animal. Choose from 20 different varieties, including a giraffe, owl and unicorn. The bunny makes a great Easter gift.
24 of 25
Busy Rainbow Activity Chart
You'll wonder how you ever got through a plane or car ride without a full board. Babies can practice tying, buckling and zipping.
25 of 25
Foldable climbing triangle
The perfect solution for small spaces. This climbing triangle folds up for easy storage when not in use.
Advertising – Continue Reading Below
This content is created and maintained by a third party, and uploaded to this page to help users provide their email addresses. You may be able to find more information about this and similar content on piano.io